As information is continually changing in relation to the Government Retention Scheme (Furlough) and the paying / retaining members of the team, what is the latest news this week in relation to the Government Retention Scheme and possibly in the future for employers?
We take the pain out of managing people whilst preventing people problems.
We are a personal, unique HR & Employment Law service, helping employers who cannot support their own in-house Human Resources department.
Our monthly packages are designed to be affordable and scales with your business as you grow.
We hold the highest Employment Law qualifications (Level 7) with our Chartered Institute and all our advice is fully professionally liability insured and accredited by the CIPD and other leading professional bodies, including the Solicitors Regulation Authority and Bar Standards Board.
We have a range of experiences within all UK business sectors both front & back of house from fast footfall, high turnover retail, hotels & catering and pharmaceuticals to Post Production & Advertising.
We are based in Stevenage, Hertfordshire and cover surrounding areas including Bedfordshire & Cambridgeshire. Get in touch today to see how Consensus HR can help.
Firstly, what can I say but 'Wow!" who would have thought a month ago, we would be in this Coronavirus (C) situatio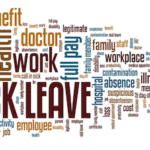 n that we
are in now with the dreaded 'C', just in case you did not know what the 'C' stood for!)  and we have been extremely busy helping our clients with this epidemic whilst making sure they are fully aware of what Government schemes are out there and the way to manage it legally and to best practice.  We are here to help and please keep safe during this epidemic.
In this months edition we talk about:
What the Coronavirus outbreak hast taught us
Parents of premature babies to get extra 12 weeks paid leave
'Low-skilled' migrant workers to be denied visas after Brexit
Landmark ruling declares ethical veganism a philosophical belief
A quarter of mothers leave for another employer after maternity
Please see below the range of stories and my personal views / comments from a HR business perspective.
Click here to read this months Newsletter and why not catch up on all our other blogs by clicking here.